Willard Straight Hall Memorial Room and Terrace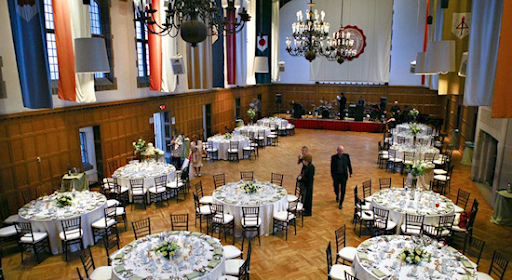 A veritable ballroom that is reserved for many functions, from arts and crafts fairs to fashion shows, to wedding receptions or ceremonies. Look over your head in this room. You will see the names of Cornell presidents carved in stone just below the ceiling. And, as you look up at the ceiling, you will realize that the ends of each wood beam contain the caricature of some of Willard Straight's most "beloved" professors. Directly adjacent to the Memorial Room is the Ivy Terrace, boasting a magnificent view of downtown Ithaca and Cayuga Lake.
Location
136 Ho Plaza, Ithaca, NY 14853
The full capacity of the Willard Straight Hall Memorial Room is 300 guests for standing only. The capacity for banquet seating is 168 guests.
Rental Fee
The 2022 rental fee is $2,000 per half-day (2:00pm-11:00pm) or $3,000 per full day (9:00am-11:00pm) for the Willard Straight Hall Memorial Room and Terrace. There are additional charges for any staffing, catering, or rentals. Conference & Event Services will work with you on the specifics for your event to provide a full quote.
History
As one of the first college unions in the United States, this Gothic structure was modeled after Hart House at the University of Toronto and bears the name of a Cornell alumnus whose wife was instructed to use his money "...to make Cornell a more human place." Willard Straight Hall is a vibrant and well-loved student union, considered to be the central spoke of Cornell's wide-reaching campus activities.