Anabel Taylor Chapel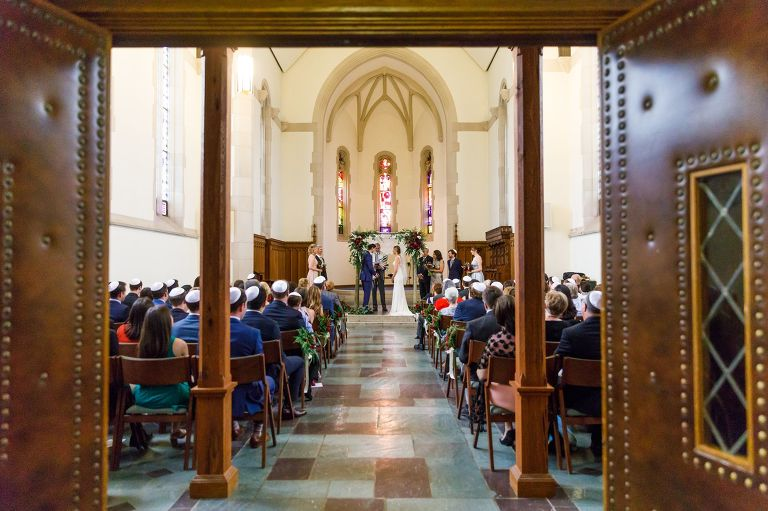 Anabel Taylor Chapel is a non-sectarian chapel that is appropriate for weddings of any or no religious tradition.
Location
548 College Ave, Ithaca, NY 14850
Details
Anabel Taylor Chapel has a capacity of 120 people. Seating is in free-standing chairs that can be moved depending on the requested layout.
The Chapel features a pipe organ and a piano. There are two handheld microphones and a lapel microphone that feed into an in-house audio-visual system. There is an audio jack to connect devices to the in-house system.
The Founders Room is commonly used as the place for the wedding party to line up before a wedding. Few couples use it as a space to dress. Room dividers, mirrors, and fans can be set up in the Founder's Room if requested. 
Rental Fee
The 2022 rental fee is $1,750 per timeslot for Anabel Taylor Chapel. There are additional charges for any staffing, catering, or rentals. Conference & Event Services will work with you on the specifics for your event to provide a full quote.
Availability
No Saturday weddings will be scheduled in Anabel Taylor Hall Chapel that conflict with major University events, e.g., New Student Orientation, Convocation, December Recognition Ceremony for December Graduates, etc., or major religious events, e.g., Holy Week and Easter, Passover, and Ramadan.
No Saturday weddings can be scheduled in Anabel Taylor Hall Chapel if the paired Friday rehearsal is unavailable. This will occur at various times of the year when Jewish Shabbat services are scheduled in either Anabel Taylor Hall Chapel or Anabel Taylor Hall Founder's Room between 4:00pm and 7:00pm. No Sunday weddings will be scheduled in Anabel Taylor Hall Chapel.
Year of 2022
Timeslot 1 - 10:00am-12:30pm Saturday (rehearsal 4:00pm-5:00pm Friday)
Timeslot 2 - 12:30pm-3:00pm Saturday (rehearsal 5:00pm-6:00pm Friday)
Timeslot 3 - 3:00pm-5:30pm Saturday (rehearsal 6:00pm-7:00pm Friday)
Year of 2023
Timeslot 1 - 11:00am-1:30pm Saturday 
Timeslot 2 - 1:30pm-4:00pm Saturday 
Timeslot 3 - 4:00pm-6:30pm Saturday
It is expected that the set-up, the ceremony, all post-ceremony photography, clean-up, and departure of all guests will be concluded by the end of the reserved time.
History
Anabel Taylor Hall is a memorial to Myron C. Taylor's wife Anabel Stuart Taylor who died in 1953. It occupies the northeast corner of Central Avenue and Campus Road Constructed 23 years after its companion building, Myron Taylor Hall, Anabel Taylor Hall closes off the northern side of the Myron Taylor courtyard.
The main entrance on Central Avenue is marked by a tower housing the University's memorial to alumni killed in World War II. A chapel extends to the south and the Founder's Room extends to the north. The materials of this collegiate Gothic building are gray-brown Ithaca stone for the walls, limestone trim, and gray and purple slate for the high-pitched roofs.